KaleidoPaint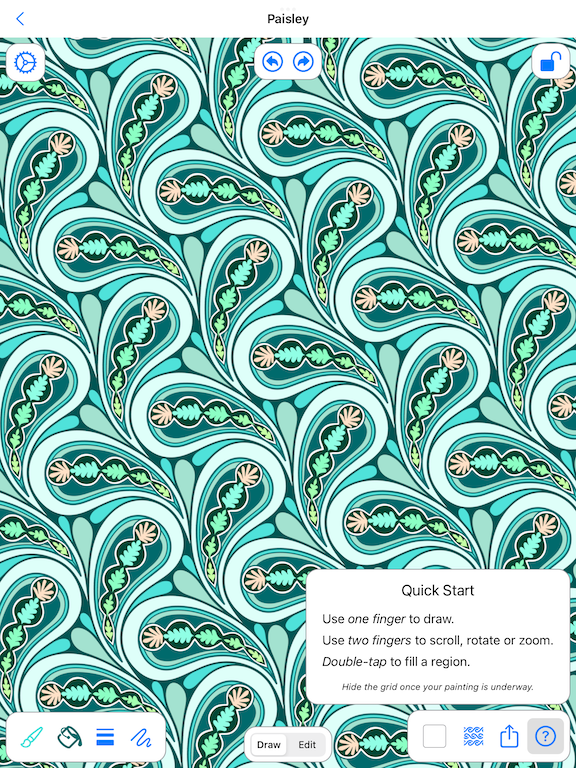 As you draw, KaleidoPaint mirrors your brushstrokes to create a beautiful infinitely repeating design.
Features:
17 symmetry patterns
Scroll, rotate, zoom
Curve smoothing
Area fill
Edit Mode: reshape and recolor any dot, line or area
Unlimited Undo/Redo
Export your favorite paintings to the Photos app, or e‑mail them directly to a friend
Export tileable rectangles
Champagne Design's Tips and Tricks:
Last update
7 September 2020 (Version 2.10.4)
Color Picker now offers a "wide color gamut" (Display P3) on devices with wide-color displays. Note: When you open one of your older drawings, KaleidoPaint maps the drawing's "traditional color gamut" (sRGB) to an appropriate subset of the Display P3 gamut, so your older drawings will still look exactly the same, even when stored in the new wide-color format.
Fixed a bug that had allowed a drag in the Color Picker to get "stolen" and re-interpreted as a scroll of the enclosing window.
More efficient GPU usage on iPhone 8 and later (thanks to "non-uniform threadgroup sizes"), for faster rendering.
Added Portuguese translation, thanks to Nuno Fernandes.
Arabic
,
German
,
English
,
Spanish
,
French
,
Italian
,
Japanese
,
Dutch
,
Portuguese
,
Russian
,
Chinese (simplified)
,
Chinese (traditional)
Questions?
Contact Jeff Weeks.
With deepest thanks to the translators:
حمزة خليف (Hamza Khelif), Frank Lutz, Joan Porti, Roland Lehoucq, Carlo Petronio, 竹内建 (Tatsu Takeuchi), Sebas Eliëns, Nuno Fernandes, Алексей Пронин (Alexey Pronin) and 马楚媛与邹燕清 (Clara Ma and Yanqing Zou)
View this page in:
العربية Deutsch English Español Français Italiano 日本語 Nederlands Português Русский 简体中文 繁體中文
This material is based upon work supported by the National Science Foundation under Grant No. 1503701. Any opinions, findings, and conclusions or recommendations expressed in this material are those of the author and do not necessarily reflect the views of the National Science Foundation.
[Return to Geometry Games home.]