KaleidoPaint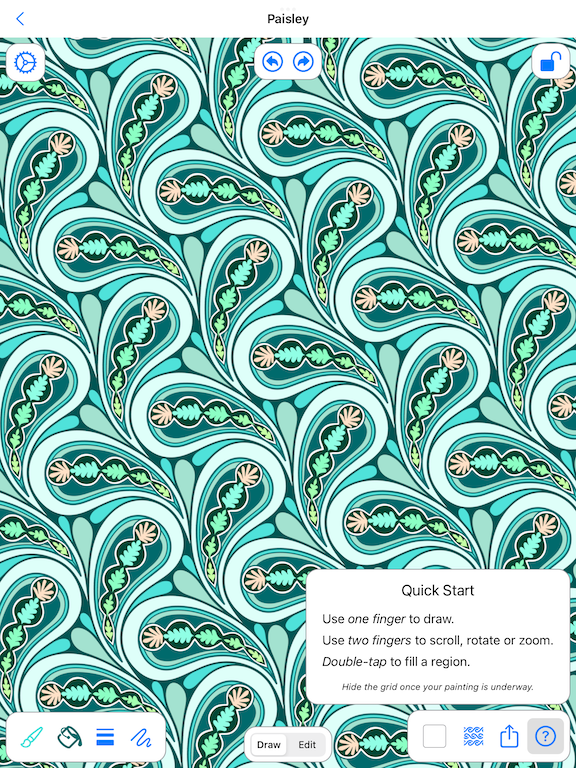 As you draw, KaleidoPaint mirrors your brushstrokes to create a beautiful infinitely repeating design.
Features:
Vector graphics
17 symmetry patterns
Scroll, rotate, zoom
Line smoothing
Area fill
Edit Mode: reshape and recolor any dot, line or area
Unlimited Undo/Redo
Export your favorite paintings
Export tileable rectangles
Francine's KaleidoPaint tutorials
Last update
8 March 2023 (Version 3.0.2)
Removes a no-longer-valid constraint from KaleidoPaint 2 that was preventing the pen from resizing correctly when the aspect ratio was set to an extreme value. Thanks to Francine Champagne for reporting this bug.
Arabic
,
German
,
English
,
Spanish
,
French
,
Italian
,
Japanese
,
Dutch
,
Portuguese
,
Russian
,
Chinese (simplified)
,
Chinese (traditional)
Questions?
Contact Jeff Weeks.
With deepest thanks to the translators:
حمزة خليف (Hamza Khelif), Frank Lutz, Joan Porti, Roland Lehoucq, Carlo Petronio, 竹内建 (Tatsu Takeuchi)氏と澤田智宏(Tom Sawada)氏, Sebas Eliëns, Nuno Fernandes, Алексей Пронин (Alexey Pronin) and 马楚媛与邹燕清 (Clara Ma and Yanqing Zou)
View this page in:
العربية Deutsch English Español Français Italiano 日本語 Nederlands Português Русский 简体中文 繁體中文
[Return to Geometry Games home.]